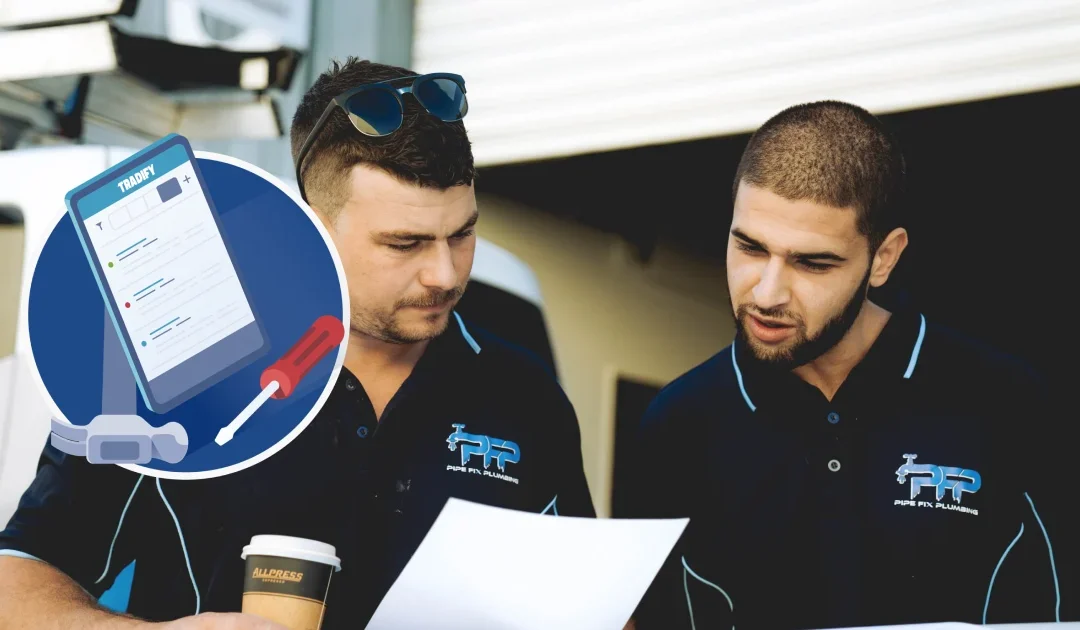 Want to run a trade business? You need a plan!
A successful contracting or trade business is based on a solid business plan. It's the blueprint you build your business on, as well as the tool that keeps you on track.
You wouldn't start a client's job without some sort of plan — and it's the same for your business.
At Tradify, we work with a lot of trade business owners as well as solo operators. We're uniquely placed to help tradespeople run their businesses, and feel responsible to do just that. Whether you're just starting out, or have found that your established business needs some guidance, a solid business plan is sure to help.
So here's our contractor's guide to writing a business plan, as well as a template to help you pull it all together. Read on for more information and guidance on filling out the template.
1. Building a business plan

"Everyone has a plan until they get punched in the mouth." – Mike Tyson
Starting and growing a business means you'll likely experience a few knocks along the way. Learn to roll with the punches. As you work out your plan, think about your business and how you will react to threats as well as opportunities. The finished product of a written business plan is often less important than the process of planning itself.
So have a think…
What are your short-term, medium-term, and long-term goals?
What is unique about your business that will consistently attract customers?
What potential problems can you imagine cropping up, and how will you deal with them?
Maybe you already launched your business without a proper business plan in place. Now that you're up and running, you've probably realised that a comprehensive plan will be necessary to make your business a success.
If you're just starting out, you may need to borrow money to get your business off the ground. Banks and other financial lenders will want to see a comprehensive business plan with a clear vision, goals, and objectives. They won't lend you a cent without one.
2. Working out what to charge
It's important to work out if you'll be able to make money from starting your own business before you borrow money, commit your savings, or quit your current job.
A contractor or tradesperson usually charges an hourly rate for their services, on top of the cost of materials and consumables. These are called 'variable costs', as they differ between projects, and are often passed on to the paying customer.
But there are other costs associated with running a business. You may have rent to pay on your business premises, vehicle payments, insurance, maintenance, employees, etc. These ongoing charges are called 'fixed costs' and you need to work out how much to charge hourly to cover these costs.
Example
For this example, we'll assume your fixed costs are a currency-generic 5,000/year. Let's say you want to generate a salary of 100,000 per year. This means you need to generate 105,000 per year from your hourly rate.
Let's assume you decide to work 5 days a week, for 48 weeks, or 240 days a year. Subtract another 15 days for sickness and holidays, and this leaves a total of 225 working days.
You plan to put in at least 8 hours a day but need to allow 3 hours for travelling and work such as marketing and admin. This leaves 5 billable hours a day.
Now you can work out your hourly rate:
Billable hours per year = 5 hours per day X 225 working days, or 1,125 billable hours.
Divide your goal of 100,000 by 1,125 billable hours and your minimum charge-out rate per hour must be 88.88.
Remember this is just the break-even figure to cover your fixed costs and personal salary. There's no extra profit to expand the business.
To help you be as accurate as possible, we've developed a calculator and guide to help you figure out your charge-out rate.

3. Finances & forecasting
If you are borrowing money to start your business, then this is the section of your plan that your bank or lender will pay the most attention to. It should explain exactly how your business will generate money.
Apart from actually selling your services, you might also be:
Joining a franchise
Bringing in a partner
Working with a private investor
Whoever you're borrowing money from is going to want to see that you've done your homework.
It's important to include:

A break-even analysis – show your business can at least break even before it makes a profit.
A cash flow forecast – try and be as accurate as possible, lenders don't like guesstimates. Drill down into the details and be as objective as you can when working out the numbers.
A sales forecast – this isn't easy when you're starting up, because you don't have any historical data to base it on. There are ways to conduct one though, and it's important to do so because it'll help you work out if your business idea is financially viable.
4. Defining what your business does
What does your business do exactly? This is where we get into the nitty-gritty of your business plan. What you're looking to do here is outline what your business does and detail how you're planning to achieve your goals and objectives.
Your business plan should be easy to follow and engaging to read. It needs to explain clearly what your business does and why you're the one to be doing it. When it comes to presenting it to your bank, investors, or other financial lenders, it should grab their interest right off the bat.
1. A business overview
You'll need to describe your business (or future business) in detail, including:
Business structure – many contractors are sole operators, but others may be starting a business in partnership with another tradesperson or even with a supplier. You may also wish to expand in the future.
Location – describe where your business is located, and any strategic advantage your location offers. Are you establishing new premises or are you working out of your home office and garage?
Financials – the results of the break-even analysis, cash flow forecast, and sales forecast worked out earlier.
2. Your services
You'll also provide a detailed outline of what your business offers. Whether you're a plumber, electrician, HVAC technician, or any other trade, you should include details like:
Exactly what products/services you'll offer – are you offering a generalised service or are you specialising in certain areas?
Pricing – how will you price your services? What percentage of profit margins will you have?
Price sensitivity – explain how price sensitive your offerings are. Identify where you'll make your profits, and describe your ability to increase margins.
3. Skills and experience
You won't have much of a trade business if you can't show a lender (not to mention potential customers) that you know what you're doing. Your business plan needs to include details of training and certifications you've achieved, as well as all your on-the-job experience.
Think about your ongoing plan which may include:
Upskilling through training courses.
Courses to retain or update any relevant or necessary qualifications.
Needing to train or qualify staff.
How you're going to win – your marketing strategy
5. Marketing strategy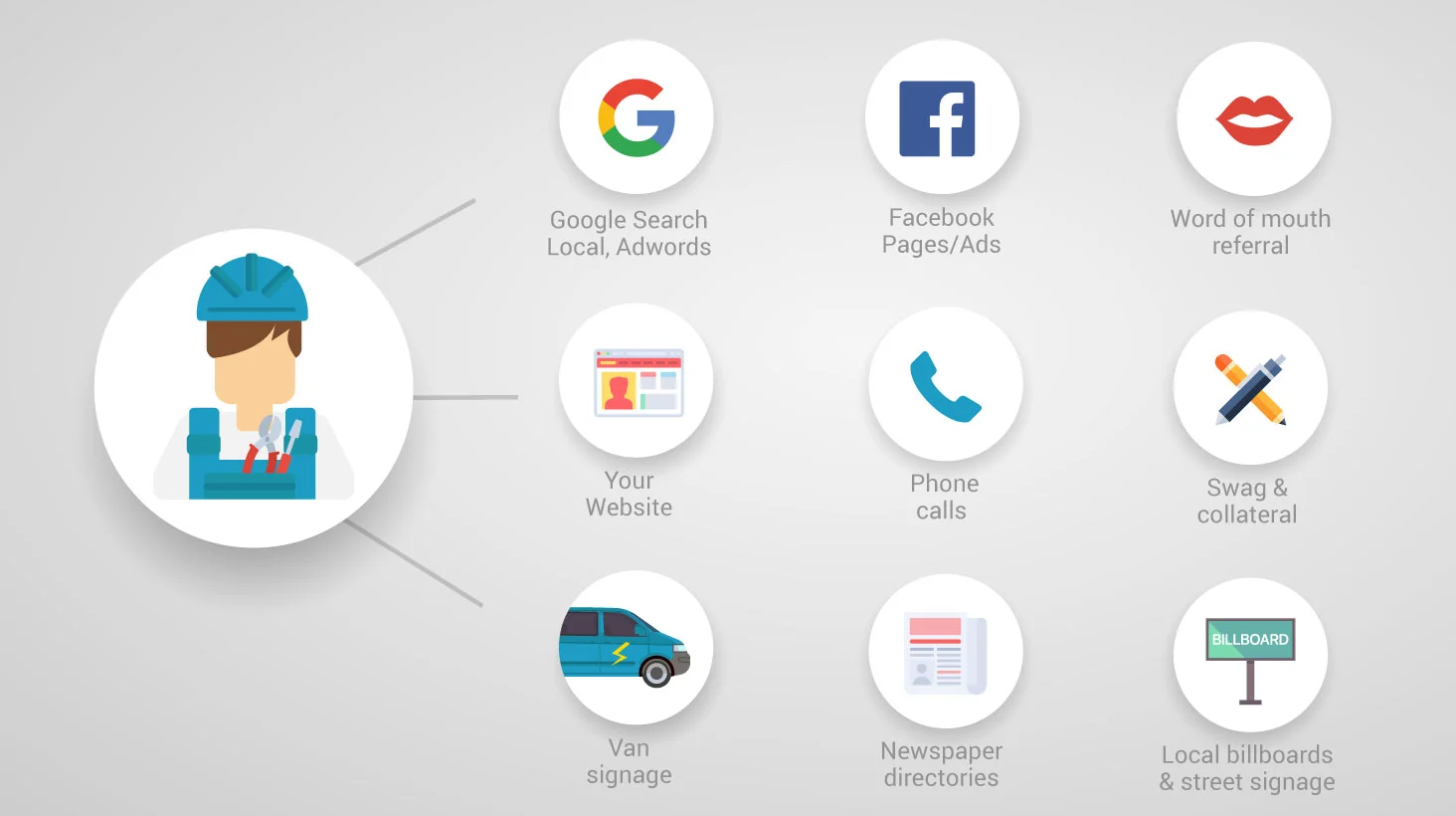 Any bank or lender will want to know that you've got a marketing strategy in mind. It's something you should constantly refer to as you think about new ways to market your business. Your marketing strategy should cover the following three areas.
1. Who are your customers?
Provide an outline of who your target customers are, including how you plan to target them. If you have different services that would appeal to different types of customers, create customer personas that you can assign your services to. This will help you decide where to concentrate different marketing activities.
Consider the following:
Where your customers spend their time – this is the place to market to them, whether it's online or physical locations.
What your customers are most interested in – high quality materials, a good deal, fast turnaround?
If you'll need a dedicated marketing budget, and how much it should be.
2. What's your marketing plan?
Write down a plan to increase awareness of your business. You can't rely entirely on word of mouth, as powerful as it may be. How are you going to get your name out there?
To start with, think about things like:
Listing with local business directories:
3. What's your competitive advantage?
Your competitive advantage is the thing that you do better than anyone else. Customers like to shop around and it's up to you to answer the age-old question: "Why should I hire you?" If you can make this clear upfront, you're already ahead of the competition.
Take a look at competitors in your area, and decide:
What you can do differently, or better.
How you can stand out.
If any existing businesses may offer potential partnership opportunities.
To help with your marketing strategy, we've developed a practical marketing toolkit for tradespeople. It's full of examples, tips and tactics to help you successfully market your trade business.
6. Ticking the boxes
All businesses, regardless of industry, have to comply with government regulations and bylaws. It's a tedious aspect to owning and running your own business, but there's no getting around it.
You need to keep the following in mind:
Environmental concerns – is anything you're doing going to impact on the environment? If so you need to outline how you plan to deal with those issues.
Legal restrictions – check your local laws around operating a business. If you're hiring staff, there will be employment laws to abide by. There may also be restrictions around what types of work you can do at certain times.
Health & Safety – an area every contractor must pay attention to. There will be H&S regulations you (and any staff you might employ) have to comply with. Find out what they are and show evidence of your compliance.
Don't skip this part! Legal hassles are not worth the time and money they cost, and they can easily be avoided by getting it right from the start.
7. Filling out our No-Nonsense Business Plan Template
It's essential that your business plan is as realistic as possible. Try not to make assumptions. Being overly optimistic or unnecessarily negative will not help either. You need to produce a plan that's an accurate outline of how you intend to start and run your business. The process of writing your plan will help crystallise your ideas and identify priorities, saving both time and effort.
Once your business plan is written, keep it close at hand. Review it regularly so you know you're staying on target with your goals, and update it when necessary. It's just as important for established businesses, so don't make the mistake of ignoring it once you're through the start-up phase. Revising and updating your plan will keep it relevant as a roadmap for your business.
8. What's next?
Once you've got your business plan written down, you need to be able to execute it as effectively as possible. Tradify is the way to run a contracting business easily and efficiently. The app works on desktop or mobile and records notes, receipts, quotes, timesheets, contacts and more.
The following content was originally published by Tradify. We have updated some of this article for our readers.